Following the vampire-filled adventure known as the Dawnguard expansion for The Elder Scrolls V: Skyrim, Bethesda must have realized that some players just wanted to relax at home and enjoy the simple pleasure of raising a family. Today, the much-rumored Skyrim Hearthfire DLC was officially announced by Bethesda, and it's not exactly what most players may have been expecting.
Launching on Xbox Live on September 4, Skyrim's latest DLC will allow players to not only build a home using carpentry skills and items picked up along the adventure, but also decorate and inhabit it. The DLC will also introduce a child adoption system, which will bring a parental protection scenario into play.
The trailer gives a brief overview of how the building aspect will work, but it shows what is truly possible through the Skyrim Hearthfire DLC by giving glimpses of extravagant creations filled with statues, trophies and, yes, mounted Mudcrabs. First, players will need to purchase a deed to a plot of land. From there, they will use a new Carpenter's Workbench to craft materials for building. The trailer shows how a simple, one-room creation can turn into a mansion filled with alchemy labs, gardens, kitchens and more.
Check out the trailer below for more information regarding the Skyrim Hearthfire DLC. When Hearthfire launches next week, it will set players back 400 Microsoft Points (or $5); a far cry from Dawnguard, which emptied digital wallets at 1600 MSP ($20). No word on a PlayStation Network or PC release date.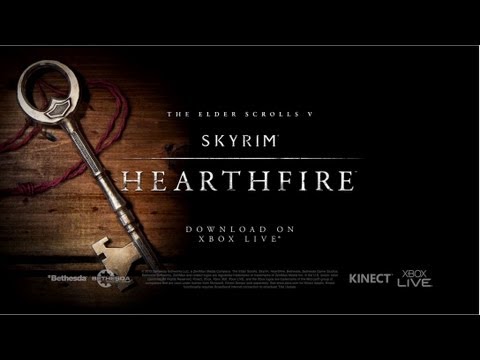 [via BethBlog]