On Thursday, EA confirmed that Dead Space 3 will feature Kinect commands, similar to this year's Mass Effect 3. The voice commands will only be available for Kinect, and will allow gamers to "help a friend from the onslaught of horrors," and will include trade-type commands such as "give medkit" and pinging the map to help you find one another.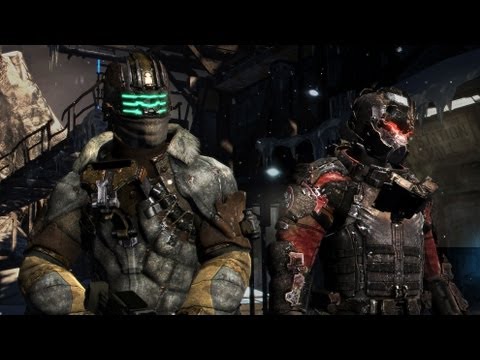 Steve Papoutsis, Executive Producer on Dead Space 3, is quoted saying, "The voice commands in Dead Space 3 give players a unique way to take down the terror, whether they choose to face the Necromorphs alone in single-player, or alongside a friend with drop-in / drop-out co-op. Dead Space 3 delivers the action-horror experience our fans have come to know and love. And with the ability to survive the adventure alone, with a friend, or with Kinect, we're excited about extending the spine-tingling Dead Space experience to a whole new audience of players."
For we who are planning to co-op this with a spouse or loved one, we already have visions of yelling at each other and the Kinect. And yet oddly, we're okay with this. As easy as it is to roll your eyes at mention of Kinect, if the commands work as they did in ME3, trade stuff sounds quite lovely.
Speaking of lovely, we have some Dead Space 3 screens for you to drool over. Bloody, necromorph drool. Dead Space 3 is scheduled to release on PS3, PC and Xbox 360 February 5, 2013.