UPDATE: Find out how the new PES 2012 demo stacks up against FIFA right here.
There's no rivalry in the realm of sports video games quite like the one between Pro Evolution Soccer and EA's Fifa franchise. EA held a comfortable lead for quite some time until Konami made enough drastic improvements to last year's iteration of PES. EA has sworn that Fifa 12 is their most complete entry in their franchise boasting all-around improvements to control, AI and animations. This trifecta of improvements go a long way in delivering a more true-to-life experience on the pitch, and improvements to Online and Career modes are sure to keep fans coming back for more. And EA is hoping that this widens the gap between these two franchises once again.
The biggest improvements for Fifa 12 lie more in the gameplay than anything else. Graphically, it's very similar to Fifa 11, but that's not necessarily a bad thing.  The game already looks great with beautifully rendered players, stadiums and fields. However, a new animation system called the Impact Engine has been developed to capture the unpredictable nature of football. This new engine takes into account the fitness and trajectory of bodies as they collide together and with the ball. This leads to some interesting scenarios as the system will operate among all twenty-two players on the pitch whether they're close or away from the ball. I discovered how this system works first-hand in a rather hilarious error on my part. As I was storming Manchester City's defenses with Arsenal's Cesc Fabregas (now with Barcelona FC), I accidentally collided with Robin van Persie causing the ball to roll helplessly into an opponent's possession. It was a sign that I was in store for a different approach to this year's Fifa.
Another improvement to the animation and controls is the degree to which individual players will control the ball and perceive strategic advantages. The Precision Dribbling feature allows for players to play the ball close, shield from defenders and move more fluidly across the pitch. The new system works really well as I felt more in control of the ball especially around the boundaries. This new system works just as advertised, and it cuts down on frustrating foibles around the boundaries.
The new AI addition to Fifa 12 is the new Pro Player Intelligence. The new feature blends ease-of-use with real-time strategy. Essentially, the players on the pitch are all aware of each other's strengths and weaknesses. Players will interact with each other accordingly to prepare for the best setups. This can be anything from cross passes for headers, or ground passes for more controlled strikes. Players will adapt their actions according to their counterparts. This worked well as much as I perceived it to. I noticed that certain trajectories were different as I passed to different players, but I'll get on more of that later.
The next improvement is how EA handled the defensive control. The game still included a one-button "press;" however, a more technical system has been installed for more freedom. As a defender controls the ball, the player has several angles of attack. A player can hold down the left trigger to enter a "press" mode, which heighten's an offensive player's chance to make a mistake. The player may also draw assistance from a teammate using the right bumper button to double up on an opponent. Players are also able to jockey for position with an opponent from behind or to the side by pressing the B button. This triggers a tug at the offensive player giving the defender a chance to vie for a takeaway.
The game controlled well as players have a little more weightiness this time around. Some players my find it less fluid on an initial run, but practice will eventually net understanding for how everything comes into play. The collision system works very well, thus putting the onus on the player to weave in and out of defenders and consistently produce fluid ball movement. With that said, the passing indication feels a tad bit loose. The passing indicator is much too small, and offensive players seem like they don't play a pass tight enough. They were more apt to wait for the ball to come to them rather than attack it to gain control outright.
Rounding out the presentation is a wonderful duo of commentators in Martin Tyler and newcomer, and Premier League legend, Alan Smith. From what I could tell despite my short time with the demo is that this is a very solid team of commentators. The commentary seemed very fluid and natural as the match played on. Tyler delivers his lines with a sort of dry humor that's sorely missing from most sports titles. Smith on the other hand helps make sense of what's happening on the pitch due to his experience as a former player for Arsenal and England.
As I said before, the game is gorgeous graphically with lush stadiums filled with bright colors and pageantry. It's been a standard for EA sports titles, but unfortunately is that the other standard is that the demo seemed a bit rushed. There were certain points where animations went janky as transitions kicked in and out. There were also a couple issues with slowdown as the camera panned around the field, however, that mainly happened during transitions and replays so it didn't hinder on the gameplay.
Despite some nitpicky control and animation issues, this year's Fifa feels the most true-to-life as a football game gets. There are some definite changes that make this a more technical game of footy, and long-time players will welcome those changes. The demo is now available on the Xbox Live, PSN and EA's Origin store for PC. Fifa 12 will be released in North America on September 27, 2011.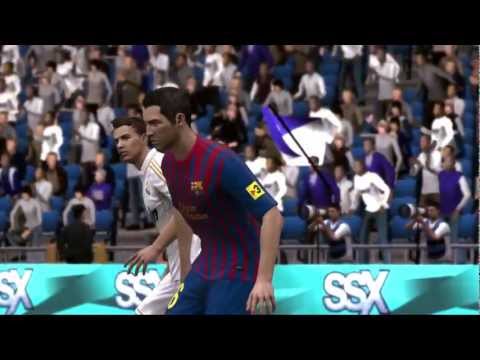 Fifa 12 Gamescom Trailer courtesy of EAsportsfootball.