The notion of downloadable content is commonplace in today's landscape of launch-day DLC and season passes, but prior to 2007, to have a legitimate, laid-out plan to support a console game post-launch was not a common occurrence. Harmonix, a company that was in the midst of a transition away from the most popular franchise in the industry at the time, Guitar Hero, had a vision for a brand new IP that would eventually revolutionize the concept of downloadable content.
The Revolutionary Ambitions of Rock Band
The foundation of Rock Band was based on a much more ambitious idea than simply giving players an alternate way to experience music, however. "Alex [Rigopulos, CEO of Harmonix] firmly believes, and he sold MTV Games on the idea, that […] this was going to be a music platform and that people were going to consume their music here and find new bands and spend more money," John Drake, Director of Communications and Brand Management at Harmonix, says. "And I didn't think it was a bad idea, I just thought 'there's no way we can sustain this.' Every week, six to ten songs? But they did, and I don't want to say I didn't believe it, I just thought we would do it for a couple of months and then maybe we'd do a sequel, then another couple of months and it'd be on and off."
The DLC continued beyond the first few months, and because of that, Harmonix became a trailblazer for its take on console game development cycles. "A lot of game companies work for two or three years and have one release and maybe a DLC pack or two afterwards, and our team, it was every week that we would be submitting new content to the first parties," says Drake. "I think for game developers, there's not enough recognition for how crazy that is, especially for people who haven't done that much DLC. Like, we broke the Microsoft Store, we broke the Sony Store. These are things that actually had to be redone because of how much stuff we were putting into it, but I think our intention was to say 'Hey, we know we can't get every song you like onto the discs, and we know we can't get every genre you like onto the discs, so […] just like you shouldn't only buy punk records, you should be able to buy whatever you want, and we try to offer it. Rock is so broad that we felt we really needed to offer DLC to cover it."
"I can't believe we didn't miss a week. So many near misses!"
– John Drake
And cover it Harmonix did. For over five years, Harmonix released weekly DLC, completely innovating post-launch content delivery for console gaming. "You want people to repeat their gaming. You don't want people to pick up your title for three weeks and then put it down," Drake says. "I play a lot of games with narratives and I love games with stories, but then I'm kind of done with those games and I have a little trophy shelf of all the games I've beaten, but I don't go back and play them every week because there's not a reason to. With Rock Band and Dance Central, once you play those songs, they're a little more consumable. There's a mastery element, and I don't want to discount that […] but for a casual player, once you play a song a couple of times, you want to play new songs. Offering people the ability to continue playing our game, and justifying to them purchasing all of this hardware, and new hardware, and iterations of hardware; That's a big investment, and if we don't deliver on content, people feel a bit cheated, so it's important for us to have [thousands] of songs for people to choose from. Doing it in the way we did it was crazy, but I think it all worked out in the end."
Such a commitment required Harmonix to bring together a large team to support the release schedule. "We had dozens of people working full-time in 2007 and 2008 making DLC. They were also working on disc games, so not exclusively DLC, but the song authoring team was like 30 plus strong, plus producers, plus submitters, plus other parties, and it wound down to probably the end of this year to being like between ten and twenty. There were fewer songs, so we didn't need as many people."
Fans on the RockBand.com forums and the Rock Band Facebook page immediately took notice of Harmonix's commitment to DLC, and began requesting (and in some cases, demanding)that  their favorite artists enter the game's library. "[The community can be] sometimes unreasonably [rabid about band choices]," Drake says. "It became a thing where we'd be like 'Hey, we know you want this, but we can't get it, so maybe drop it?' […] It's dialogue and we're listening as people tell us what they want. It's when people insinuate that we haven't heard them or that we're not listening that it becomes frustrating for us. Especially on the community side, if you put in a request, […] it doesn't automatically unlock the content you request. It's not only based on how many people requested it, it comes down to the label or the publisher or the band. But we've used those numbers in presentations to the bands, where it's like 'Here's how many people have requested you,' and we put a rush on it. […] The fans telling us what they want is important and I hope they continue to do so. The ones who are reasonable and nice about it are always way more compelling to listen to from our side and way more motivating for us to hustle and go to try and get what they want than the people who are screaming about it."
Bringing Two Sides Together
The licensing process proved to be an arduous one, however, as Harmonix was required to play it by ear as the company explored previously uncharted territory in the game industry. "We made mistakes because no one had ever done it before," Drake says. "That's a weird situation to be in, where you can make a mistake because you literally have to guess because there's no way to look at what other people have done and base your moves off of them. […] You don't know, but you take a stab and you see what happens. […] There are about 40 parties that have to sign off for big bands like [Black Sabbath or The Rolling Stones], so the artist probably said 'yes,' then they were waiting to hear back from people and we were waiting to hear back from other people, and we took that to mean that we were good. We learned that you should always be patient and wait for someone to approve it, because for a variety of reasons, some people don't want to have their music in a game."
Despite being in such a difficult situation, Harmonix was able to leverage its talent to create amazing stories within the industry, such as the fact that they were the first medium to officially debut the first track from Guns N' Roses' oft-delayed album, Chinese Democracy. Those stories, John Drake explains, were instrumental in the licensing process. "Sometimes there were things that would happen where it would be a really good story for us to tell, which is important for us as far as Rock Band as a cultural institution, as well as for working with labels and partners so we could be like 'This is what we do. We want to be a place where we break new music, where you find new favorite bands, and not just a place where you re-purpose you're old content and we'll give you a trickle charge of licensing. We want to be partners, not just publishers of content.' And the 'Shackler's Revenge' thing was great! It was shocking that we got it."
While Drake couldn't speak on the specifics of the Guns N' Roses negotiations, he did elaborate that sometimes Harmonix wouldn't have the final say in what songs appeared in the Rock Band franchise. "It's usually a pretty back-and-forth process, but we don't usually get unfettered access to tell them what we want," he says. "And that's how we sometimes end up with songs that don't always seem like the most natural choices, like not having 'Flagpole Sitta' and having a different Harvey Danger song instead. […] But things like that are sort of the more interesting stories to me, like the week-to-week licensing. Stuff was always up in the air! Things were being added and subtracted from the spreadsheet. There are bands that I can't even talk about that were on that spreadsheet for two years where [they] had permissions, [they were] looking for the masters, and it just never happened. […] When we get new content from bands that have great classic albums, we do it in hopes of forming a partnership and getting classic albums. If we had Chinese Democracy, we would hope to have Appetite for Destruction or Use Your Illusion. These are humongous records that of course we would want to have in the game. And I think that with that first step, it was a big music story for us and we would get access to those things and we didn't get access. […] That would've been great, but it didn't work out."
Harmonix was also able to utilize its own popularity to gain access to bands it wanted in the game. "Back in the day, like 2007 and 2008, we would do favors for labels to try to get other bands in the game," Drake says. "There would be songs where I would be like 'Why are we putting this out? Literally nobody is going to buy this!' […] and there would be these incredibly [complex] relationships. […] Putting a band in Rock Band was our currency. And then we came out with Rock Band Network, which became the most convenient excuse of 'No, no! You can do it yourself now! Go right ahead, solve your own problems!'"
"[Music licensing] sucks. The people who do it are great and they work really hard. When I say 'It sucks,' I don't mean that it's bad, it's just really difficult work. It's a lot of really difficult relationship work, and there's a lot of 'This could fall apart at any minute' for totally reasonable reasons. […] But we have a crack team that has been working on Rock Band since 2007, and they know everybody and they're hugely helpful."
– John Drake
While Harmonix's credibility from the Guitar Hero franchise helped with licensing music for Rock Band, the partnership with MTV Games while Harmonix was owned by Viacom proved to be particularly helpful in the process as well. "I think that [partnering with MTV and Viacom] helped lend some more credibility to us," Drake says. "I think Guitar Hero was a big enough phenomenon at that point that people were already taking note in the music industry, [but] MTV was a little more credible. They had existing relationships with those people and they were a trusted party. […] MTV is what made The Beatles [Rock Band] possible. Dhani Harrison really liked Guitar Hero and really liked Rock Band 1, but if it wasn't for MTV, I'm not sure if we would have been able to get everyone on the same page. They made the funding of all the instruments possible. They made getting almost all original masters possible, and they were a really great company partner. […] We didn't always see eye-to-eye and it wasn't always a perfect relationship, obviously they have their objectives and we have ours and sometimes they weren't perfectly aligned, but we were owned wholly, so it was their call most of the time. The music team there was really strong and they knew how to get the best deals and they knew how to get people excited. [MTV] got some pretty big artists to come in and they got the Beatles to do a video game, which is still incredible and crazy to me and I don't know how we pulled it off."
The Beatles and Beyond
When Harmonix released The Beatles: Rock Band, however, it was unable have its tracks exported to the main series, a move that was seen by some as contradictory to the original platform vision of the franchise. "We just don't have the rights to [export The Beatles: Rock Band to the main platform]," says Drake. "I think there's also a lot of really great custom stuff in The Beatles that makes it more fun to play it in there. The animations, The Beatles themselves playing the songs… that's so much better than your avatar playing the music. While I totally get that the disc-swapping kind of sucks, I think that The Beatles: Rock Band being a cloistered game is kind of important to it feeling as good as it feels. We want it to feel like The Beatles, and Rock Band's not that. With Rock Band, it's kind of dingy arcade venue or like a Russian stadium. That might work for 'Back in the USSR,' so you could be funny for one song, but if you're playing 'While My Guitar Gently Weeps' in front of a cheering, jumping crowd, especially those studio records, which they were not for live performance, they were made for these innovative studio techniques. I wanted [to export the songs too] in the abstract, but thinking about the practicalities of it, it would offer a pretty watered-down experience when compared to what The Beatles: Rock Band actually was, which was potent."
With The Beatles: Rock Band, Harmonix attracted the attention of other big name groups that wanted the single-band game treatment as well. Most notably, U2 came out saying they would consider doing a full band game."We would've loved to [do a full game devoted to U2]," John Drake says. "It never came together, but we definitely saw those quotes. That was one of those bands that we were always in conversations with, but it never came to be for… I don't know what the exact reasons were. Love U2 or not, they're a humongous band that's had #1 hits across three decades."
"People like cool entertainment that feels like pop culture, and we can deliver that in a way that most people can't."
– John Drake
Harmonix also pursued what John Drake called "the white whale:" Led Zeppelin. "Led Zeppelin would be a game-breaking experience. It would change the game," he says. "It just wasn't the right time for them. It was either 'We can't get approval from this person right now' or 'They're busy and they can't get back to us' or 'The band's not sure this is where they want to go with their music.' It wasn't like the band hates Rock Band, it was 'Now's not the right time and let's revisit it in the future.' We're hoping to keep that relationship open. I mean, Rock Band's not dead. It's just not being made. We own the IP. We hope to come back to it in the not-too-distant future. And we want to make sure that we have the ability to talk to Led Zeppelin and The Rolling Stones and The Beatles […] again when we decide to come back to it, because the fans are still going to say 'Where's Appetite for Destruction?' 'Where's Led Zeppelin?' […T]hey had their reasons, and hopefully those reasons will change in the future and we'll have them in the game so everyone can rock out and have a good time."
What did come together, however, was Green Day: Rock Band, a game that took the concept of The Beatles: Rock Band, and applied it to a modern band. "It was different," Drake says. "I think that The Beatles: Rock Band was a game that our studio turned 100% to and we had our entire studio working on that game. Like, of the 200 people working at Harmonix, maybe 150 of them were working on The Beatles: Rock Band, while the other 50 were working on Rock Band 3 and Dance Central. But Green Day was a smaller project. […] They're a very different band. They came to fame in the 90s and the 2000s, and they're a band where we have footage of them playing, where we could reference and make it feel more like a live experience, where with The Beatles, there were entire records that they didn't play live for, so what do we do? So these are just studio albums, so do we have them just sitting around Abbey Road the whole song? No, we did something crazy and artistic and there's just so much great art. […] Personal preference is a big deal in music, and I think Harmonix just wanted to get a big recent band that was just topping the charts every month with a new song in our game and do something special with it. […] With a lot of these bigger bands, it's not a money thing. […] It's usually just like 'Hey we're a really big band. What can we do that's special to make it about us and about our music and about our fans?' and that was one of the driving forces behind The Beatles: Rock Band and Green Day: Rock Band."
Another advantage that came with the MTV partnership was that it made the transition to using master tracks easier. "[Having master tracks] is a better experience," Drake says. "It's better to hear the song you want than the song that we're faking. There are some really weird implications with doing sound-alikes. At the point where you're trying to convey the feeling of the original recording, we're just going to try to get the original recording, and if we can't, then maybe it's just not the right song for the game. Once we got MTV access, we had a good pipeline for it, we knew all the guys at the publishing houses and studios, and it got to become kind of a machine. We just didn't need to do sound-alikes anymore. […] The audience made it clear that they preferred original recordings over covers."
The partnership between Harmonix and MTV Games ended when Viacom sold the Boston-based developers in 2010. "By the time we left MTV, we had good enough relationships with all of our partners that it was no longer about access. We have access to anyone we want to talk to, we're trusted, people know who we are," Drake says. "Looking back, I think we're a more nimble studio because of [the sale]. Alex [Rigopulous] used the metaphor that Viacom is like a really big ship and the thing about really big ships is that they're incredibly powerful and have a ton of great stuff on them and they're impressive machines, but they're harder to turn than a smaller boat. It's just a bigger radius to turn on. So now we can turn a little bit faster, but we have a little less oomph behind us. And that's okay! I think we're actually good with that. The games we're making now fit better with an independent Harmonix than if we were owned by MTV."
"When we're left to do our own thing, we end up delivering good games and I think [our owners] get that."
– John Drake
The End of an Era
Unfortunately, every great run must come to an end. More than five years following the release of the original Rock Band, Harmonix ended its streak of 281 straight weeks of DLC. "We were very careful to build a rhythm of how this was going to happen. We didn't want them to feel like we ripped it out from under them and surprise them," Drake says. "For better or for worse, we saw how Guitar Hero wound down their content — and we liked Guitar Hero and I actually bought a bunch of Guitar Hero DLC and I liked playing it; I had a good time playing it. I didn't want to see them go, but they did. It was really sad, and obviously it was a little nerve-wracking on our side of the equation because not only was there another big brand not making games anymore, but the way they handled it and the messaging to their community, things just got turned off very quickly and there didn't seem to be a ramp to it at all. I feel like they lost a lot of people and their forums descended into complete utter spam madness directly after that. We wanted to say 'Hey look, we care. We're just moving on to a different place, and we want to give you notice and gently let you down.' I think Aaron [Trites] and [Eric] Pope and the entire community team did a great job of saying 'Let's be realistic about how much content we're going to be making.' […] Our community is much more understanding than most people on the internet, let alone video game fans, of 'We can't, we want to, we aren't. Let's all move on together and celebrate how great it's been rather than whine about what we don't get.'"
The sales of DLC had slowed dramatically since the rhythm genre's boom in 2007 and 2008, but Drake doesn't attribute that to a lack of dedication in the fan-base. "I think the community has actually supported us about the same all the way through because we have great fans who are really focused and smart and love what they love about Rock Band. I think the community just revealed to not be as large as we thought it was. […] I think people [in the mainstream] just sort of tuned it out. It not like 'I hate rhythm games' now, it was more like 'I'm interested in all of this stuff happening over here, whereas those games are pretty similar to the way they were last year.' […] It was more about putting it on mute than lighting it on fire and throwing it out the window. […] Having four games from other franchises competing with us didn't help. Certainly the oversaturation of the market made it more difficult for retailers to care about putting guitars on shelves, […] but now that we're sunsetting it pretty gracefully two years after our last core Rock Band release, I feel pretty good about how we handled ourselves."
The Start of Something New
Five and a half years later, Harmonix is getting ready to announce its newest project, which Drake is very excited about. "We have so many new games and they're so good," he says. "There's at least three console games in pretty full development. That doesn't mean they're close to being done, but these are games with staff on them. These are games we haven't announced yet. There's at least three of those and there's a couple more in the hopper for console, PC and mobile stuff. We're working on all of these platforms because first and foremost, Harmonix is a studio of ideas. We want to make music something that people frame their gameplay with and that's a pretty powerful story if we can get all of those games done, they're pretty awesome games. There's just a lot of them."
"Our next game that we're announcing, hopefully in the next month or two, is going to be a game that might not immediately seem like it's a 'Harmonix game,' but when you think about it, it's a game that only Harmonix could make."
– John Drake
When Drake mentioned that the studio would be continuing to frame its gameplay experiences in music, I probed a bit deeper for what that meant for future projects. "I think the degree to which [gameplay] is based around licensed music is totally up for jostling and shaking up, but […] I think we'll always have products that have licensed music in them because people love playing music they know," he explains. "I'm going to use this term, but it doesn't mean we're making a game like Amplitude or Frequency, but based around rhythm action in some way — like it's based on timing and hitting certain beats and things like that. […] Music can play a very powerful role in a game that's not just beatmatch or not just dancing [and still deliver] what you could call a Harmonix-y experience."
Regardless of the outcome of the new projects, Drake cannot stress enough the importance of exploring new ideas. "It was just time for the studio to try something new. Trying something new is what brought us Guitar Hero, trying something new is what brought us Rock Band, trying something new brought us Dance Central. We feel pretty confident that at least a few of these things we're working on will be really big things that the communities that love Rock Band and Dance Central will love, but maybe some communities that don't love games at all yet will fall in love with and enjoy. That's our hope"
A Farewell to an Old Friend
On Tuesday, April 2, 2013, Rock Band released its final scheduled downloadable song, Don McLean's "American Pie;" a fitting tune to wrap up the amazing DLC feat achieved by the team at Harmonix. To thank the fans, the studio also put together a video entitled "The Story of Rock Band," which is told by several members of the Harmonix team, all set to "American Pie." For those who already know the story, the video serves as a bittersweet "thank you" from the team at Harmonix, as it plays out the last notes of its Rock Band encore.
The end of weekly Rock Band DLC means the end of an incredible run, but it represents so much more than that. This is the end of an era for a franchise that defined the way an entire generation of games have been supported post-launch. With Harmonix finally breaking free from the Rock Band song production commitment, the studio is now free to try to wow fans in new and exciting ways. Harmonix's philosophy, as stated in its Rock Band 2 announcement, is to "innovate, then perfect." Now, as Harmonix temporarily closes the curtains on its most successful franchise to date, it is more able than ever to pursue its vision thanks to the doors the Rock Band franchise opened.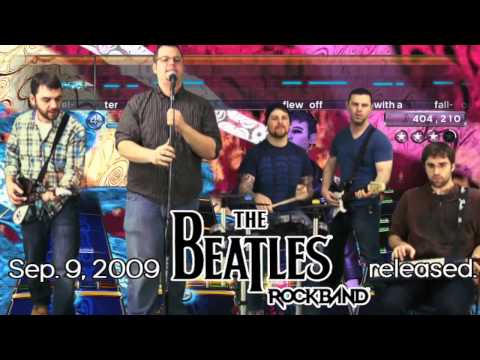 Tommy Wall from RockBandAide.com assisted with the editing of this article.