Blow Out Those Birthday Candles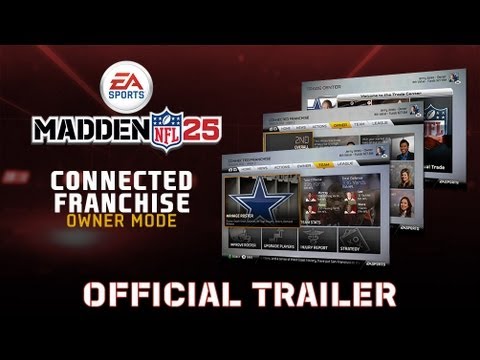 From its feature list to history-driven loading screens, Madden NFL 25 is all about celebrating the quarter-century mark for one of gaming's biggest franchises. Not only is the core gameplay the best it's ever felt, but the embarrassing hiccups in the Infinity Engine that were present in last year's game are nearly nonexistent in Madden NFL 25, as well.
From a gameplay perspective, players can now give ball carriers more "oomph" behind their maneuvers with a Precision Modifier that, while causing the player to run slower, will make any evasions or trucks more effective. Madden Ultimate Team is back and just as addicting as ever, but the biggest upgrades are found in Connected Franchise mode, as the options to lead a career as a player or coach are carried over from Madden NFL 13, but this time, players can also opt to take on the career as an owner.
Owner mode handles similarly to coach mode, only as an owner, you're more about financials than you are team strategy. Connected Franchise also enables players to control multiple characters, allowing for numerous coaches, players, and owners to all be controlled by one player throughout the course of concurrently running careers. While that could sound enticing for hardcore players, it becomes overwhelming trying to manage different aspects of multiple teams.
Sadly, the game is marred by technical issues. Aside from the usual non-intrusive visual glitches that annual players of the franchise have come to expect, players of Madden NFL 25 may experience an increased number of full-on crashes. This is made particularly tough to swallow due to the fact that the game doesn't have an autosave feature in the offline career.
With technical issues hindering the experience, Madden NFL 25 narrowly avoids becoming the best Madden title of this generation. The gameplay is tight, the new feature list is impressive, and the constant nods to past entries are a great reminder of the history of the series. If EA Sports addresses the technical issues, there's absolutely no reason that fans of the franchise shouldn't pick up this outstanding addition to one of gaming's most storied franchises.
Release Date: August 27, 2013 (PS3/Xbox 360), November 15 (PS4), TBD (Xbox One)
Genre: American Football
Platform: PlayStation 3, PlayStation 4, Xbox 360, Xbox One
Developer: EA Tiburon
Publisher: EA Sports
ESRB: E for Everyone
MSRP: $59.99
3.5/5
Review Statement: An Xbox 360 copy of the game was provided by the publisher for the sake of this review. On three separate occasions, on three different career files, the game froze on the reviewer, causing significant loss of data. The reviewer reached out to EA Sports PR, who has stated that they are investigating whether this is a widespread issue or not. If more information is received, the review, and potentially the score, will receive an update.