PopCap has a unique grip on the video game industry. Titles like Bejeweled, Zuma and Peggle are staples among the casual crowd but are equally capable of hypnotizing core players for hours on end. This is because every game PopCap produces is built on the foundation Tetris established; they are simple to learn, difficult to master and translate well to multiple platforms. This is especially true for Plants vs. Zombies, one of the most engaging and engrossing tower defense games in history.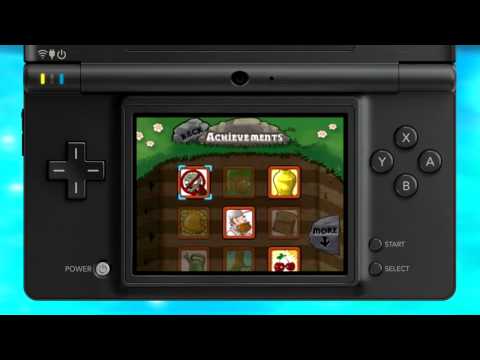 Plants vs. Zombies (PvZ) is the latest PopCap title to be transferred to the Nintendo DS (see also: Bookworm, Bejeweled Twist and Peggle) and it's brimming with personality. For the uninitiated (where have you been hiding?) PvZ lets you plant dozens of charming yet deadly perennials in a bid to protect your house (and your brains) from an onslaught of 26 humorous, specialized zombies. In true PopCap fashion, each level you complete rewards you with a new ability or plant to add to your arsenal, adding a new layer of depth and difficulty literally every few minutes. Will you wall up early for a late-game offensive, or take it to the zombies with the awesome fireball/threepeater combo? How will you deal with that sneaky underwater zombie? The foundation of the game, especially to tower defense nuts, is magnetic. With a couple minor exceptions, this is a fantastic tower defense experience and an excellent port priced to move ($19.99). The DS version also packs a few exclusive features and is arguably easier to control than its console cousins; the stylus is a natural fit for any game in this genre.
Without question this is a complete package, including the lengthy Adventure mode, a local versus mode (requiring only one cartridge for limited skirmishes) similar to the Xbox Live version, along with Survival and Puzzle modes. A wealth of mini-games are here as well, including 4 new ones exclusive to the Nintendo DS (Heat Wave and HomeRun Derby are standouts). It's a staggering amount of content and aside from a few lackluster mini-games, will keep you coming back out of both addiction and obsession.
If you already own the excellent iPhone version, paying $17 more for the cartridge is a tough reality to swallow, especially when considering the iOS version runs more smoothly. To PopCap's credit, the DS handles the majority of the gameplay admirably, but you'll notice some chop and stuttering on occasion as the hardware struggles to render the increasing onscreen chaos. By no means is the slowdown a deal breaker; merely a minor annoyance in an otherwise impeccable port. Our other minor gripe concerns screen real estate. In later levels the density of your plants and various botanical creatures can make it tough to accurately place objects, but you'll quickly learn to adjust.
The Bottom Line:
If you haven't yet been seduced by the cult of PopCap, you may in fact be an alien. Still, this latest PC to DS translation is a perfect excuse to start drinking the kool-aid. Aside from some minor graphical hiccups, Plants vs. Zombies is represented perfectly on Nintendo's handheld and If you don't own the iPhone or PC version, this is a perfectly portable must-have addition to your DS library.
Release Date: January 18th 2011
Genre: Tower Defense
Platform: Nintendo DS
Developer: PopCap Games
Publisher: PopCap Games
ESRB Rating: E10+
Our score: 4.5/5