Stacking is one of those games that will take you on a journey through your childhood, and every second of it is worth savoring. The game itself came from a turbulent period for Double Fine Productions, but hard times helped lead to such a creatively sublime game. At the very least, Stacking deserves even the most minute attention for its charm alone. However, its delightful presentation and simple mechanics are enough to snag the hearts of even the most hardened of gamers.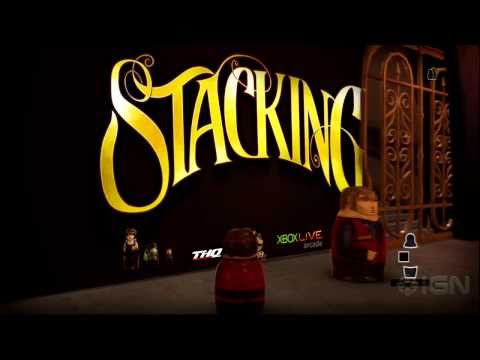 Published by THQ and developed by Double Fine Productions, adventure awaits as the story depicts the demure Charlie Blackmore in his quest to save his family from a dastardly industrialist called The Baron. Charlie — as well as everyone else — is a Russian nesting doll, but he has a stigma of being the smallest. Charlie must navigate four distinct worlds, which will present various puzzles that he must solve with the help of various, unique NPCs. Every puzzle has multiple solutions, and half the fun is merely experimenting to find the solutions. Stacking is reminiscent of point-and-click adventure games that were popular during Tim Schafer's earlier career. While Stacking is not as challenging as those games, it actually teaches the player how the mechanics work.
Charlie must overcome challenges by inhabiting the bodies of nearby nesting dolls. However, Charlie cannot just jump into any doll he pleases. Since he is the smallest of all the nesting dolls, he must progressively stack dolls to become larger. Every doll presents either the opportunity to overcome a challenge or assist charlie in creating chaos through hi-jinks. This unique mix of structured gameplay and free-form creativity suggests to the player to slow down and enjoy the lighter side of the game. Players may even be struck with ideas for solving puzzles during these moments of silliness and experimentation.
After a player beats the main campaign of stacking, they are given the opportunity to revisit levels to collect unique dolls and doll sets, complete hi-jinks and solve every angle of the main puzzles. This almost doubles the initial playtime of Stacking, and there are enough reasons to warrant a replay.
The only downside present in Stacking is that the game is short and some players may not have a desire to play through the levels again. The game itself is just over three hours long if played through with no desire to collect everything and solve every puzzle.  Although, Stacking is worthy of being among any gamer's collection as its hard to resist its simple charm.
As far as presentation is concerned, Stacking is perfect. The intricate detail of the Victorian era design is matched by the Great Depression inspired look of the dolls themselves. Everything in terms of setting, scope and concepts shines with an impressive glow. There are subtle nuances to the graphics from the depth of field to how the world is viewed through the lenses of a haz-mat suit or the eyes of a dog. It is this attention to detail that sets Stacking apart graphically from any game available on XBLA or PSN.  The action is segmented by silent filmesque scenes that enhance the humorous, if not poignant, story of Charlie Blackmore. This is top-notch humor from Double Fine as many of the punchlines and characters pulled some hearty laughs out of me.
Closing Comments:
Stacking is a game that reminds me of the climactic scene in Ratatouille where Anton Ego is presented the simple comfort dish. One taste makes Anton remember his own mother's cooking, and thus gives Collette and Remy a glowing review. Stacking does that to me in a way that takes me back to my own childhood. It is a particularly special game; I compare it to Queen's song "Don't Stop Me Now." It is a song that cheers me up no matter how downtrodden I feel. Stacking has that same effect.
Release Date: February 8th 2011
Genre: Adventure, Puzzle
Platform: PlayStation 3, Playstation Network, Xbox 360, Xbox LIVE Arcade
Developer: Double Fine
Publisher: THQ
ESRB Rating: E
Our score: 4.5/5