With a new generation of consoles comes a new glass ceiling of what games are visually capable of. While Tomb Raider was a visually pleasing title when it launched in 2013 on PC, PlayStation 3, and Xbox 360, Crystal Dynamics knew it had the potential to look so much better. That's why, after nearly a year of the game being on the market on previous generation consoles, Crystal Dynamics and Square Enix have re-released the critically acclaimed title on the PlayStation 4 and Xbox One.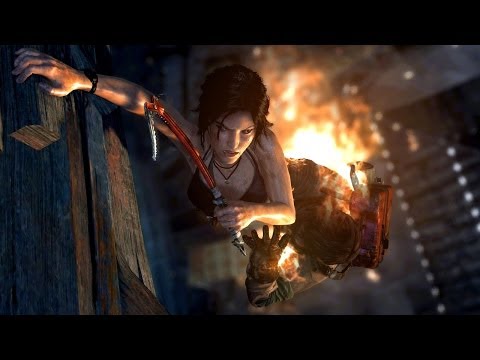 A critical darling when it released last year, Tomb Raider told the origin story of seasoned adventurer Lara Croft. The original release took home multiple awards at the end of 2013, including VGW's "Action/Adventure Game of the Year," "Third-Person Shooter of the Year," and "Hero of the Year" awards. Tomb Raider: Definitive Edition brings the outstanding 2013 adventure title back into the forefront with the enhanced visuals that players expect from the more powerful systems.
The main case that's made to grab Tomb Raider: Definitive Edition is that it boasts a major step up in the visuals department. Lara's face has been completely re-rendered, the environment has received a considerable revamping that includes greater depth of vision and more reactive foliage, and everything around Lara is definitively crisper. While the visual upgrades are indeed noticeable, the game is not without its blemishes. Even on the newer consoles, there were several moments of environment pop-in, and despite the big deal that was made about the improvements to Lara's hair, there were still instances where it behaved unnaturally in cutscenes. However, in-game, the hair looks and behaves very realistically (though we'd expect Lara's hair to be somewhat tangled and matted by the end of her adventure).
Even without the crisp new visuals, Tomb Raider: Definitive Edition gives players an excuse to head back into one of the best single-player campaigns of the previous generation. Watching the naive Lara Croft grow into the unwavering adventurer that fans came to know in previous generations is a delight. The design of the game is noticeably brilliant, and even though the game's single-player has the essence of tedium surrounding it, Crystal Dynamics somehow managed to work that feeling into an outstanding experience through phenomenal pacing. The only true downside of this entire package is that, much like the original version, the multiplayer section of the game is still a considerable let-down when compared to the exemplary single-player campaign.
Tomb Raider: Definitive Edition is a much prettier version of one of 2013's best releases, but it isn't much more than that. Whether it was additional single-player content, extra maps in multiplayer, or even tangible inclusions to the package, anything extra would have gone a long way to push those who already experienced Lara's maiden adventure towards picking it up for a second time.
However, as it stands, $60 is a lot to ask for a year-old title, even if it does have new visuals on the recently launched consoles. The major caveat to this is that the game is still every bit as phenomenal as it was when it originally released just under a year ago, meaning that Tomb Raider: Definitive Edition is easily one of the best games currently available on PlayStation 4 and Xbox One. While the original edition of the game can be found for around $10 on PlayStation 3 and Xbox 360, those who have yet to experience Tomb Raider should absolutely strive to do so through the Definitive Edition.
Release Date: January 28, 2014 (NA), January 31, 2014 (EU)
Genre: Action, Adventure
Platform: PlayStation 4, Xbox One
Developer: Crystal Dynamics, Eidos Montreal, Nixxes Software BV, United Front Games
Publisher: Square Enix
ESRB: Mature
MSRP: $59.99
4.5/5
Review Statement: An Xbox One downloadable code was provided by the publisher for the sake of this review. This is a review of Tomb Raider: Definitive Edition with a focus on what this upgraded version of the game brings. For a full review of the game itself, you can check out our review of Tomb Raider on PC, PlayStation 3, and Xbox 360 here.