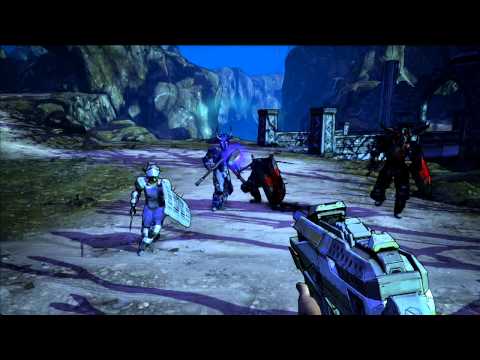 Warning: This contains spoilers for the end of Borderlands 2, so quit reading if you don't want that cherry popped, shorty.
The story behind "Tiny Tina's Assault on Dragon Keep" will make you fall in love with Borderlands 2 all over again, taking you on a quest to recover the thing Gearbox has been missing from its previous DLC: the game's heart.
Going into the pack I knew I was predisposed to enjoy it, since it centers around A) my favorite NPC, the preciously psychopathic Tiny Tina, and B) my love of tabletop roleplaying games. But this pack does more than just throw a metric ton of fantasy tropes and references at you: it smartly weaves a story of grief and coping with tragedy, while also staying true to Borderlands 2's' irreverent tone and bringing back every awesome character you've ever met for a cameo or encore performance.
You start the pack by fast-traveling to the Unassuming Docks of Little Importance. From there, Tina acts as Dungeon Master for Lilith, Brick and Mordecai as they play through a game of "Bunkers and Badasses", tracking down the evil Handsome Sorcerer who's kidnapped the land's queen. What starts as a place full of rainbows and butterflies turns dark and monster-filled at the diminutive DM's whim, which can make for some really hilarious and shocking gameplay moments.
For instance, I was running through the Forest Of Being Eaten Alive By Trees with my level 39 assassin and two other members of the VGW crew, both levels 50 and 51. We went down a side path which Tina said she wasn't prepared for, so she just threw some monsters in there. The high-level characters, who had been perfectly happy slaughtering level 35 monsters, were suddenly staring at an 85 treant.
We all ran away screaming in terror.
When she's not being a sometimes-unbalanced Dungeon Master, Tina is also wrestling with something else. Early on she mentions that they should wait for Roland to show up so he can play too, which causes the other three Vault Hunters to look at each other.
"Tina, you know Roland's d-… he's not going to be coming, right?" Lilith asks.
"Yeah, he's probably just late or something," Tina replies before quickly diving back into the game.
Her flippant denial continues to be an issue as she later introduces Roland as the NPC White Knight,  and he becomes a central figure in the B&B game's story. Things come to a head in the climactic battle between the players and the Handsome Sorcerer, and Tina's forced to confront what she doesn't want to admit.
That moment is an incredibly emotional one for a game which is best known for its explosions, massive amounts of guns, and guns which also happen to explode. There is a mind behind the seemingly mindless shoot-and-loot gameplay, and more importantly, a soul.
Other interesting revelations come out in the game's multitude of sidequests. Lilith turns out to be a longtime B&B fan who "suffered" for her geekiness, and objects to Mr. Torgue wanting to be in the game just because being a geek is trendy. Claptrap reveals a hidden desire for something robots should never be allowed to have, and Ellie has something to get off her chest about fantasy women wearing reasonable armor instead of chainmail bikinis.
The main story by itself can be done in an evening, especially if you out-level the enemies in regular mode (or have help like I did). The massive amount of sidequests help make up for that, and I personally recommend skipping most of them until you've completed the main story. There are a few which can be done mid-story without too much issue, but some either take you across multiple zones or require a lot of backtracking to finish off.
The main story was so good, though, that I'm looking forward to running through it again on other characters. The writing is top-notch, the references and humor fast and furious, and the opportunities for awesome fantasy-inspired loot plentiful indeed.
Pro tip: make sure you stand really, really close to the big treasure chests when you open them. Like so they fill your entire screen.
Trust me. It's worth it.